Make Diabetic Plum Jam to preserve the summer's plums with this delicious recipe with Truvia (stevia). Low-carb, gluten-free,dairy-free. No compromise!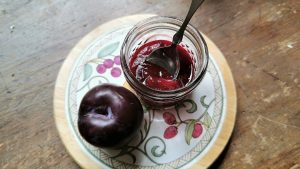 Diabetic Plum Jam (Szilvalekvar)
Recipe developed by Diet Desires.
Serving: 1TBSP | Sodium: 0mg | Calcium: 2mg | Vitamin C: 2mg | Vitamin A: 91IU | Sugar: 3g | Fiber: 1g | Potassium: 41mg | Calories: 12 | Saturated Fat: 1g | Fat: 1g | Protein: 1g | Carbohydrates: 3g | Iron: 1mg
Black plums are the best for this aromatic jam. In America the season is long through summer and fall. By using a small quantity of my favorite sweetener, Truvia you end up with 95 % fruit. 2 ingredients, no preservatives! Makes 2 ⅓ cups, 38 servings.
Instructions
Wash plums.

Remove kernels, and quarter the fruit. Place plum pieces into a wide pot.

Mix in Truvia.

Cook the fruit, stirring occasionally for 30 minutes. Keep an eye on the jam, so it does not burn.

If the plums are still chunky after this time, mash them in the pot with a wire masher, and cook the plums 10 minutes longer, stirring frequently.

Pour hot jam in clean jars, cover.

Bundle jars in a blanket for a minimum of half day to cool slowly. It keeps the heat on, hence improves the preservation process.
Notes & Ingredients
If you have super ripe plums from a farmer, no need to add anything to it! The plums have enough fructose, and one just cooks them long and slowly..
Keep jars in a cool place. After opening one, store it in the fridge.
SHOP MY FAVORITE MUST-HAVES
Reader Interactions